Step by step tips on how to pull off your favorite dunks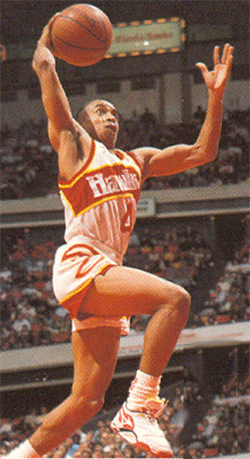 How to do a 360:
Sure a dunk is flashy, but a 360 dunk is FLASHY. It's like comparing Ames, Iowa, to Las Vegas.

Steps:
1. Attempt a 360 dunk when the court is void of any people in front of you, such as on a fast break.
2. Approach the basket with speed.
3. Make a jump stop by planting both of your feet at the same time 6 to 8 feet from the basket.
4. Angle your toes in the direction you plan to spin when you jump stop.
5. Hold the ball with both hands.
6. Toss your shoulders a bit in the direction of your spin as you jump.
7. Look over your shoulder in the direction that you're spinning, keeping your chin near your shoulder.
8. Find the rim with your eyes before your body rotates completely.
9. Bring the ball around your body.
10. Extend toward the rim.
11. Dunk the ball.

Tips:
It's easier to complete a 360 dunk if you jump off both feet and hold the ball with both hands. However, you can also complete this dunk jumping off one foot or holding the ball with one hand.
You need to be able to dunk the ball with ease before entertaining thoughts of the 360 dunk. This dunk is impressive because it's extremely difficult to do.
Practice this dunk on a rim lower than 10 feet to get an understanding of the mechanics of the dunk.