:Common Sense:
In the words of Public Enemy...Don't believe the hype..or do you?
Keep in mind, this mock is done on NEEDS and GMs these days hardly seem to draft for their needs.
Blake Griffin
1. Blake Griffin, Forward, Washigton Wizards:
Now i whats been labeled as weak draft, Blake has been on top of the list since day 1. Theres a few perks to his game but als a few flaws. First off hes a physical beast almost on the lebron james level. Not nearly as fast as lebron but as a pound for pound muscular athlete hes up there. The flaws, also like lebron, the majority of Griffins game is him being bigger and stronger than guys he plays. His jumper and handle need work and people are already saying hes not the 6'10 hes listed at. That being said he still has plenty of upside and has shown to be a hard worker who can improve and the wizards need ALL the help they can get. With Agent Zero supposedly coming back, a core of Gil, Young, Caron, Griffin, McGee could do some damage if all the young guys develop and Gil has some skill left in those legs.
NBA Comparison: Best/Carlos Boozer Worst/Jason Maxiell
2. Hasheem Thabeet, Center, Sacramento Kings:
Coaches always preach "you can't teach height" and if theres one thing Thabeet can do, its be tall. Yes I know that sounds weird but at 7'3 thats easily his strong point. He really has no offensive game to speak of outside of dunks and tip ins right under the basket but makes up for it on the defensive end where he is a high level shot blocker because of his length. Upside is limited but again, hes 7'3. The kings have young forwards in Spencer Hawes and Jason Thompson and youth at every other position so Thabeet would fit right in.
NBA Comparison: Best/Dikembe Mutumbo Worst/Mouhamed Sene
3. Jordan Hill, Forward, Clippers:
This one could go a few ways. The clippers are bums, plain and simple. So much so that even taletned guys like Gordon and Thorton look like bums just by wearng the jersey. They need help at every position and management is known for bonehead draft picks. That being said Jordan Hill MIGHT fit here. A lanky athlete who stepped up his game this year. The clips already have Zach Randolph but if theres on thing hes not, itsa athlete. Chris Kaman hasn't been anyhing special in a few years and Marcus Camby would serve as the perfect mentor to Hill. They could also take a PG like Brandon Jennings to get some youth behind Davis since livingston is gone.
NBA Comparison: Best/Hakim Warrick Worst/Stromile Swift
4. James Harden, Guard, OKC Thunder:
OKC has Kevin Durant, Jeff Green, Russel Westbrook, about 4 crappy 7 footers and some kmart level point guards. Something has to go, and since we already know its not Durant or Green or Westbrook, I'll assume its gonna be a wing. Right now the wing position is man'd by Thefolosa and Kyle Weaver. Harden would give them a YOUNG but DEADLY core who could each give you 30 if they get in a zone. Also they'd hav size with westbrook at 6'4, Harden at 6'5, Durant 6'7, Green 6'8 and Kristic or any other center. The youth movement continues, take a note Sacarmento and Memphis.
NBA Comparison: Best/Rip Hamilton Worst/Larry Hughes
5. Brandon Jennings, Point Guard, Memphis:
A hype machine product from day one but showed talent as a passing and shooting pg.Completely broke the mold by going to play Pro ball oveaseas instead of going to college like most high school students. He's gotten mixed reviews but people do say the fundamentals and level of competition he has had to play over there would have him levels head of where he would be as a college freshmen. Conley isn't the answer at point guard and with Jennings, Mayo and Gay the grizz could have an exciting team but still lose a ton of games for awhile.
NBA Comparison: Best/Rafer Alston Worst/Aaron Brooks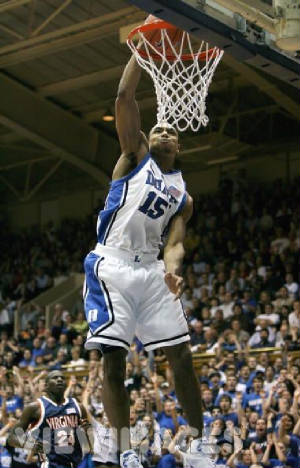 Gerald Henderson
6. Gerald Henderson, Guard, Minnesota:
My guy randy foye has been up and down all year, Corey Brewer tore his acl and Mike Miller is...Mike Miller. Due to Henderson college experience he could probably get big minutes at SG. Once just another annoying duke guy, Gerald over the years has improved his game from just a dunker to their best overall player. Too bad you can't say th same about greg paulus but thats another story. I don't see much upside with him but he has potential to be a solid NBA player
NBA Comparison: Best/Rodney Stuckey Worst/Dahntay Jones
7. Stephen Curry, Point Guard, Golden State:
Monta Ellis is probably gone as soon as possible from the warriors. Who better to fill his spot than another speedy gunner like Curry. Not nearly the athlete Monta is/was but much better shooter who can creat his own shot Inthe up and down donnie nelson style he coud fitright in and not even have to worry abut plying defense.
NBA Comparison: Best/Monta Ellis Worst/Earl Boykins
8. DeJuan Blair, Forward, Toronot Raptors:
The raptors might be the softest team in the NBA. Blair might be one of the toughest guys in college basketball. Sounds like a match right? He playsthe same position as chris bosh and is undersized at the power forward spot but his muscle and grit would make him valuable to the team from the start. Plus the way he handled thabeet shows hes not really scared of playing bigger guys.
NBA Comparison: Best/Paul Milsap Worst/Leon Powe
9. Demar Derozan, Guard, New York Knicks:
This ones tough, first off because the knicks are mostly focusing on 2010 and secondly because Demar isn't anywhere near NBA ready. Chances are he will still come out and unless the knicks think Larry Huges is the answer, DeRozan would be a good guy to mold to possibly play pippen to lebrons jordan the way their pressuring lebron to come to NYC. And if lebron doesn't come Demar woud at least be a freak athlete wing who will fill seats just by a few dunks a game
NBA Comparison: Best/Rudy Gay Worst/Gerald Green
10. Craig Brackins, Forward, Indiana Pacers:
A prototype tweener who can play both forward positions but isn't great at either one alone. Needs to get alittle more aggressive though, maybe dunk it every now and then. Could work well along side dany granger since they both can play in and out.
NBA Comparison: Best/Rashard Lewis Worst/Shawnee Williams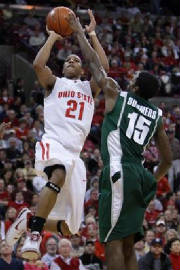 Evan Turner
11. BJ Mullins, Center, Bobcats:
Overrated but still with alot of upside. kindof reminds me of spencer hawes. A tall semi athletic 7'0 footer who would prefer to be on the wing than he would in the paint. Most teams would hate that but since the bobcats already have Okufor, Mullins would be able to roam and draw defenders out while Emeka cleans up on the inside. Still has ways to go though before he deserves worthy minutes. Luckily Larry Brown won't play him much as a rookie to begin with.
NBA Comparison: Best/Mehmet Okur Worst/Brian Scalibrine
12. Chase Budinger, Guard, New Jersey:
Captain Softy as he's become known over the years, might actually help the nets. Although he hasn't turned into the college superstar peoplee xpected, hes still suprisingly athletic and can shoot the ball. Won't create his own shot or lock anyone down but on the nets he could learn how to use his athletic ability and gun from one of the best "I have hops but rather shoot" guys in the game with Vince Carter. I don't ever see im being a star in the nba though.
NBA Comparison: Best/ Young Brent Barry Worst/ Old Brent Barry
13. Jeff Teague, Guard, Bucks:
Now I'm a fan of teague. Hes had his flashes of brilliance and the Bucks need someone who can eventually take over the team once Redds body fails (any day now). Teague is a smooth scorer and while might not be the legit PG that sessions is, Jeffs a better prospect overall. He would instanlty be the #2 pg on the team from draft night, making Luke Ridnour expandable.
NBA Comparison: Best/Randy Foye Worst/Marcus banks
14. Evan Turner, Forward, Suns:
Now I have a bias here since I've known ET before he even went to ohio state. I actually met him through this very site (see I have a eye for talent) Now most draft boards won't have him this high yet but if you watched any of the Ohio State games you see he would be valuable. Kinda in the grant hill mold, Evan does alittle bit of everything. Hes 6'6 and can score, board andis the best passer on the team. Now if the suns REALLY are trying to go back to the 7 seconds or less system, he would fit in as a jack of all trades kind of like shawn marion did. He's going to have to bulk up more and refine his handle alittle more but he has legit upside in the right system.
NBA Comparison: Best/Josh Howard Worst/Antione Wright
15. Terrance Williams ,Forward, Chicago Bulls:
At this point I see the bulls taking the best man avaliable. Rose is their PG of the future and they have tons of unproven bigs in Noah,Tyrus, and Gray. An athletic SG to with Rose will help alot. Williams is a legit athlete at 6'6 and can help rose on the defensive end instead of having anther small guard in kirk. Also while williams isn't an amazing scorer, he can get you points without really running plays for him and has the motor to keep up with rose and tyrus thomas. Until they can get a dominant big man, they need race horses.
NBA Comparison: Best/Gerald wallace Worst/ Joey Graham