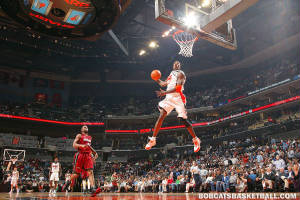 Gerald Wallace
Gerald Wallace: I know..I know..most of you reading this are like "who the heck..?" Well if your ever lucky enough to catch a bobcats game, you'd understand quick Not only has he gone from bench warmer on the kings to captain on the cats, this man has sick hops..like instead of blocking a shot, catching it at its highest point and then takin it on the break and dunking it yourself in the same play hops.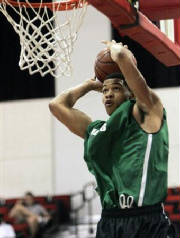 Gerald Green
Gerald Greee: While he hasn't gotten much burn thanks to his lack of overall basketball mentallity, the few times he's gotten in have lead to some NICE dunks..NBA Tmac comparisons may be pushing it but tmac in highschool..I can see it.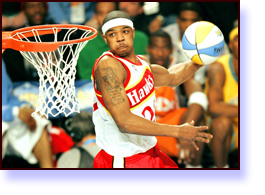 Josh Smith
Josh Smith: Couldn't live up to his hype falling into the one season wonder slot after pretty much being laughed off the court after what will be known as the "what was the tape for dunk" (he was reminding himself where to pick up his dribble if you didn't figure it out yet) So the called king of the dunk contest fell off the map faster then a aneroxic girl in a hurricane. Hopefully they'll do the chris anderson thing and invite him back to redeem himself.
LeBron James
Lebron James: at 6'8 you don't have to have hops to dunk, but Lebron..he dunks..Still too worried about everyone thinking hes perfect to put it on the line in a real dunk contest though..I was hoping at least 1 of the 4 lebrons in that commercial would have the balls to try.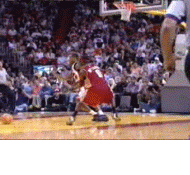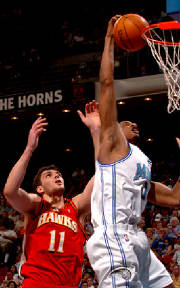 Trevor Ariza
Trevor Ariza: Pretty much a no name to most people but hes been making his name more common coming off the bench for the magic. He already had a few poster dunks this year but none made sure he was a force till her threw it down on Bobcats Okafor so hard it send Okafor to the ground..well he also kicked out his legs but that dunk was goin down either way